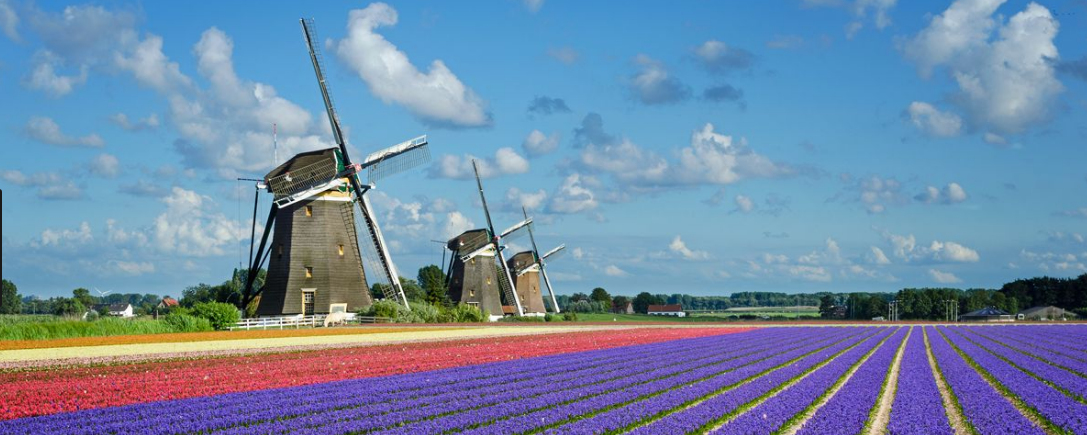 The Netherlands (Holland)
Info
Surface area: 41,528 km² (18.41% water)
Total population: 17 million
Population density: 488 people per km2
Capital city: Amsterdam (inhabitants: 834,119 in 2014)
Government: The Hague
Official languages: Dutch, Frisian (only spoken in Friesland)
Type of government: Constitutional monarchy - parliamentary democracy
Religion: 44% No religion, 29% Roman Catholic, 19% Protestant, 6% Muslim, 1% Hindu, 1% Buddhist
Currency: Euro
National holidays: King's Day (27 April) Liberation Day (5 May)
Highest point: 323 m (Vaalserberg, Limburg)
Lowest point: 6.7 m (Nieuwerkerk aan den IJssel, Zuid-Holland)
Average temperature in July: 17.4 °C
Average temperature in January: 2.8 °C
People
With 17 million people and a population density of 488 people per km2, the Netherlands is the most densely populated country of the European Union and one of the mostly densely populated countries in the world. The total size of the Netherlands is 41,500 km2. Amsterdam is the capital, but the government resides in The Hague. More than 40% of the total population live in the Randstad, the agglomeration of the cities of Amsterdam, Rotterdam, The Hague and Utrecht.
Language
The official language is Dutch. The population of the province of Friesland has a choice between Dutch and Frisian, the only officially recognised regional language. The Netherlands also include the regional languages of West Low German and Limburgs. In other parts of the Netherlands, people often speak a dialect besides Standard Dutch. Many Dutch people also speak German and English.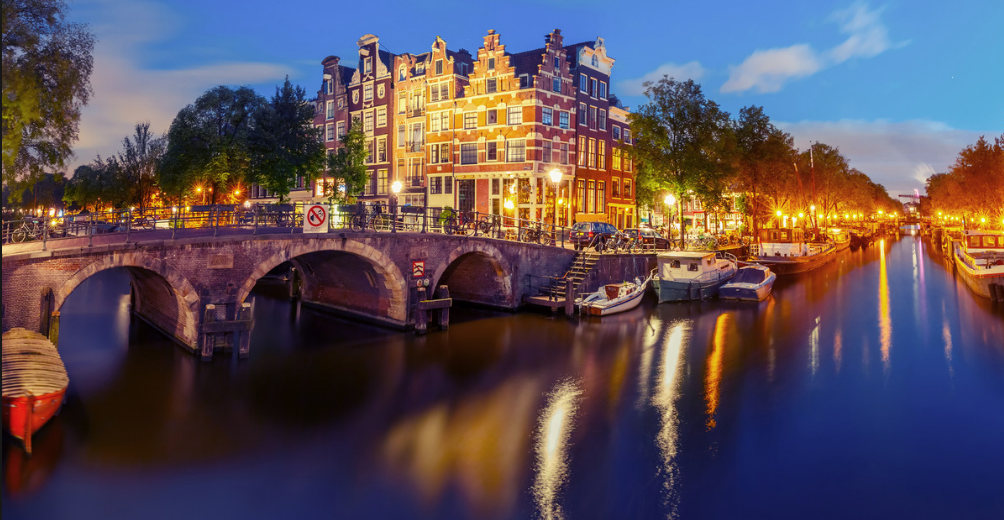 Amsterdam
Amsterdam is the Netherlands' capital, known for its artistic heritage, elaborate canal system and narrow houses with gabled facades, legacies of the city's 17th-century Golden Age. Its Museum District houses the Van Gogh Museum, works by Rembrandt and Vermeer at the Rijksmuseum, and modern art at the Stedelijk. Cycling is key to the city's character, and there are numerous bike paths.
Golden Age canals lined by tilting gabled buildings are the backdrop for Amsterdam's treasure-packed museums, vintage-filled shops and hyper-creative design, drinking and dining scenes.
Urban Explorations
Amsterdam's canal-woven core is laced by atmospheric narrow lanes. You never know what you'll find: a tiny hidden garden; a boutique selling witty, stylised Dutch-designed homewares and fashion; a jewel-box-like jenever (Dutch gin) distillery; a flower stall filled with tulips in a rainbow of hues; an old monastery-turned-classical-music-venue; an ultra-niche restaurant such as an avocado or strawberry specialist or one reinventing age-old Dutch classics. Fringing the centre, post-industrial buildings in up-and-coming neighbourhoods now house creative enterprises, from art galleries to craft breweries and cutting-edge tech start-ups, as well as some of Europe's hottest clubs.
Admiring Art
You can't walk a kilometre without bumping into a masterpiece in the city. The Van Gogh Museum hangs the world's largest collection by tortured native son Vincent. A few blocks away, Vermeers, Rembrandts and other Golden Age treasures fill the glorious Rijksmuseum. The Museum het Rembrandthuis offers more of Rembrandt via his etching-packed studio, while the Stedelijk Museum counts Matisses and Mondrians among its modern stock. And for blockbuster displays, the Hermitage Amsterdam delivers: the outpost of Russia's State Hermitage Museum sifts through its three-million-piece home trove to mount mega exhibitions.
Bike & Boat Travel
Two-wheeling is a way of life here. It's how Amsterdammers commute to work, go to the shop, and meet a date for dinner. Abundant bike-rental shops make it easy to gear up and take a spin. If locals aren't on a bike, they may well be on the water. With its canals and massive harbour, this city reclaimed from the sea offers countless opportunities to drift. Hop aboard a canal boat (preferably an open-air one) or one of the free ferries behind Centraal Station, or rent your own for a wind-in-your-hair ride.
Feel Gezellig
Amsterdam is famously gezellig, a Dutch quality that translates roughly as 'convivial' or 'cosy'. It's more easily experienced than defined. There's a sense of time stopping, an intimacy of the here-and-now that leaves your troubles behind, at least until tomorrow. The easiest place to encounter this feeling is a bruin café (brown cafe; traditional drinking establishment). Named for their wood panelling and walls once stained by smoke, brown cafes have gezelligheid (cosiness) on tap, along with good beer. You can also feel gezellig lingering after dinner in snug restaurants while the candles burn low.
Electricity in the Netherlands (Holland)
In the Netherlands (Holland) the power plugs and sockets are of type C and F. The standard voltage is 230 V and the standard frequency is 50 Hz.
Which power plugs and sockets in the Netherlands (Holland)?
In the Netherlands (Holland) the power plugs and sockets are of type C and F. Check out the following pictures.
Type C: also known as the standard "Euro" plug. This socket also works with plug E and plug F.
Type F: also known as "Schuko". This socket also works with plug C and plug E.